New year holidays is the most important for Japanese people.
And it is not "holidays" for Japanese housewives.
They have to clean up everywhere in a house including a bathroom or a washstand and a toilet or a kitchen sink.
A good husband or children will help them to wipe lampshades and shelves or wash windows and tide up a garden.
And they prepare rice cake (some people buy it and some make it by using a rice cake maker and some make it by hand!) for "kagamimochi(round rice cake)" and "zouni(raice cake soup)" .→mochitsuki
Then they cook Osechi-ryouri(special dishes for the new year).
So I believe many of them are in bad shape after new year holidays, like me.
I catch a cold every year early in January…
Anyway, a series of the new year 2019 events has done!
And now there are plenty of sweets here. Japanese people often present things each other.
The present sent on days around the New Year's day are called onenga. On new year holidays they meet relatives and friends whom they rarely meet, so we give and get a lot of onenga!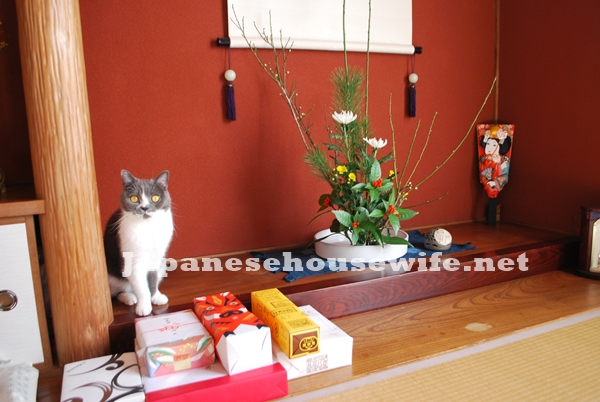 I've heard a lot of foreign people are interested in Japanese tea style.
There is some kinds of Japanese tea and "玉露 gyokuro", green and sweet tea, would be one of the most popular.
If you want to drink gyokuro with sweet taste and much flavor, the temperature of water would be important. It should be not too hot, around 60 degree Celsius.
If you use the tool called yuzamashi, You should wait untill the temperature of hot water becomes suitable for gyokuro. And I like this time.(^^)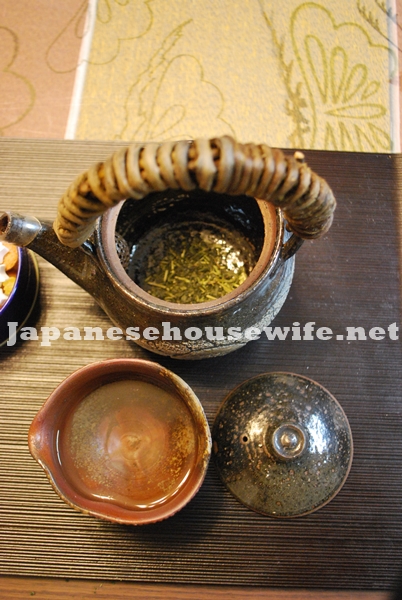 After waiting a couple of miniutes, enjoy as you like! It's not a very formal "tea ceremony."