Yesterday I made zouni for breakfast.
We have zouni for a breakfast on New Year's Day in Japan using mochi(rice cake) which we made near the end of last year.(→mochitsuki)
Zouni is soup with mochi(rice cake), its ingridients and seasoning vary from region to region and home to home.
I made zouni with Japanese white radish and carrot and spinach.  In zouni my mother makes on New Year's day every year, broiled conger-eel is added .
When you have rice or rice cake, it is good to have Japanese white radish with it. Because that helps your digestion.
We also have nanakusagayu with Japanese white radish.  A lot of Japanese traditional cuisine has health benefits.
Today's breakfast was abekawa-mochi and an-mochi.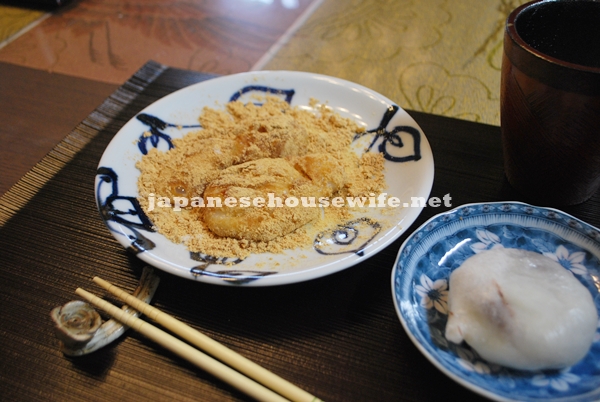 I keep mochi wrapped in cellophane and put in food pack in a freezer.
I enjoy mochi with various seasonings and in styles, and among that I like abekawa-mochi the best.
You can make that 1 toast or broil mochi 2 put toasted mochi in hot water 3 cover with soybean flour and sugar.
If you use frozen mochi you need to defrost it before 1.
It's very very delicious, hope you try and taste it!!